Ahoy Sailor, welcome aboard!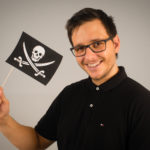 My name is Alexander Benoit and I will be your Captain on this journey. I'm glad you made it here…
My affinity to IT comes from my youth. Even as a little boy I found it incredibly exciting to look over my father's shoulder when he did his office stuff. A few years later I discovered computer games for me and the latest with the "the settlers 1" it was done to me 🙂
A few years, many LAN – parties, different operating systems and a frequent "you've got to learn from your mistakes" later I decided to take the way towards data processing at school.
With the degree in my pocket and a trainee abroad in "Sweet Home Alabama" I started my BA degree in business informatics. During the classical division cycle at the company I worked for I gained my first experience with client or system management and Empirum.
During my studies, the pirate idea was born which survived the drinking mood and soon became a concrete plan B if I would not make it at the university. 😉
Because I was a little bit broke and couldn't afford my own ship I couldn't realize the "pirate plan" and so the only change which soon showed up was the step away from supporting IT to IT consulting.
I became an Infrastructure Consultant at Data One GmbH.
Also, the client management didn't let me go and so I focused on Configuration Manager 2007 besides Hyper-V and Windows Server. The time passed by and System Center more and more became a milestone in Microsoft's product portfolio. Thanks to the shorter release cycles of operating systems and the ever-changing demands on mobile devices, Client Management is omnipresent. And because system management more or less comes with client management I focused on these two sectors of System Center. Everything together with cloud solutions is what has long determined my everyday life
Today as a Lead Security Analyst at sepago GmbH I've let the time behind where I mainly focused on system management with ConfigMgr or Intune. I still work with these tools but I'm more under the aspect of securing systems. The Microsoft Advanced Threat Protection tools are my daily business. No matter if it's the consulting architecture, investigation or managed Security Operations Center (mSOC).
Altough I'm working for sepago GmbH everything around here are thoughts on my own.
Furthermore it's not my intention to define best practices. Rather, I report of my experiences from the field and from the things that work for me. Comments, opinions and suggestions are welcome as long as they are factually based.
Connect with me on social media:
Twitter: @ITPirate
Xing: Alexander Benoit
LinkedIn: Alexander Benoit
Cheers! And Arghhhhhh! Bring the Rum cask aft.
*Captain